July 7, 2015
Dr. Ashley Robertson's Book Pays Homage to Bethune's Social Justice Work
MEDIA CONTACT: Damita Chambers, dchambers@bowiestate.edu, 301-832-2628 (mobile)
(DAYTONA BEACH, Fla.) – "Ten years ago, I wouldn't have thought or imagined this," said Dr. Ashley Robertson ('08) from her office as curator/director of the Mary McLeod Bethune Foundation-National Historic Landmark. At the Bethune-Cookman University where she is also an assistant professor, Ashley preserves precious collections belonging to the trailblazing educator, along with her historic home.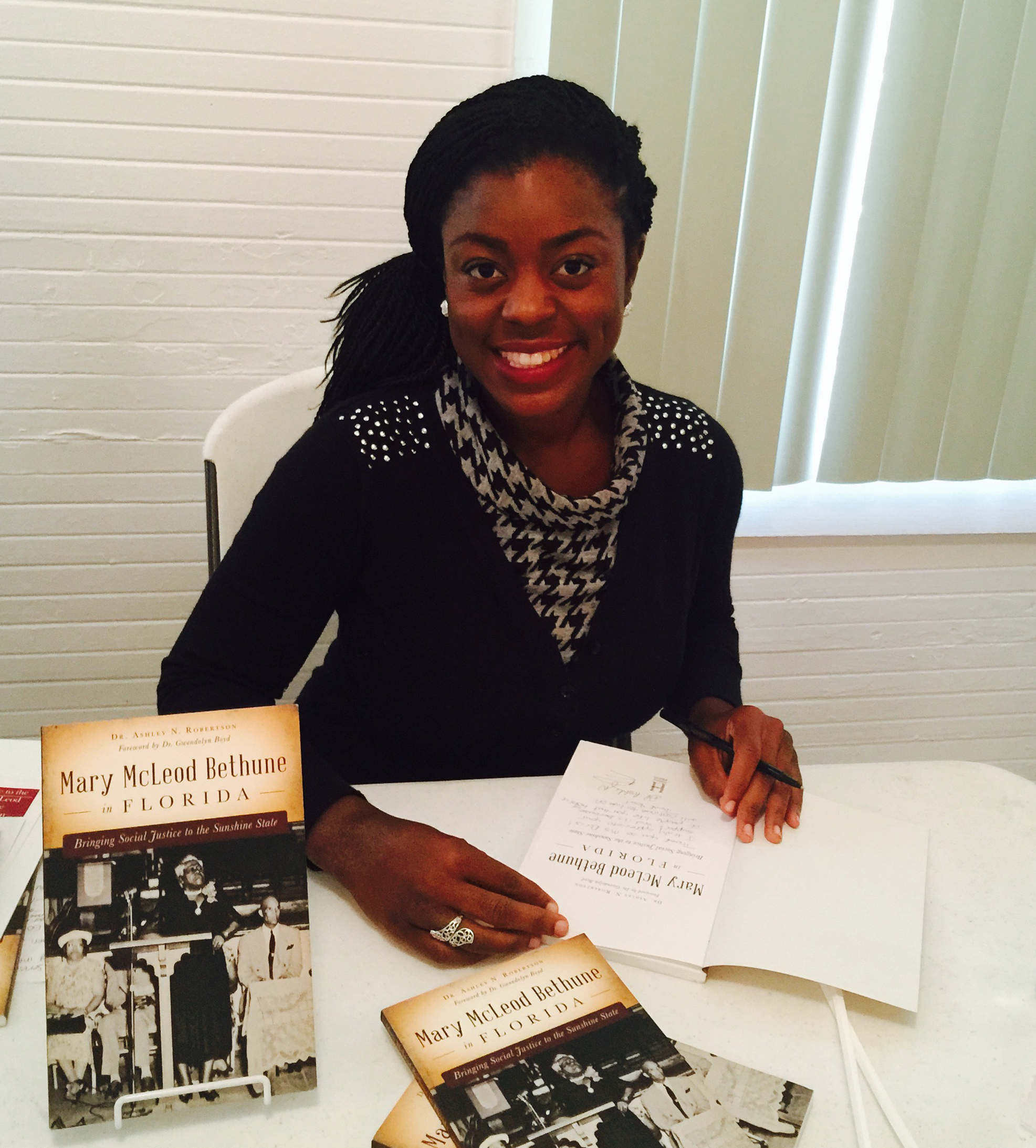 Ashley also released her first book on June 29, "Mary McLeod Bethune in Florida: Bringing Social Justice to the Sunshine State."
Ashley's journey to become a museum director and published author started when she was a business major at Bowie State. She found her life's calling when she took an African American history class to fulfill an elective requirement. That class ignited a long-held fascination she had with history.
"I've always loved history. My grandmother got me interested in history as a child," she said. "At one point, I realized [history was] something that makes me more excited than what I was actually there to study."
Two professors in the Department of History and Government helped her shift gears. They took her under their wings and talked with her about how she could follow her passion. They mentored her, helped her apply for graduate school and wrote letters of recommendation.
A first-generation college student from a small town in North Carolina, Ashley had no one to consult for college and career advice before arriving at Bowie State. She found all that and more in the Honors Program. She received a full scholarship to join the program.
"I took advantage of every opportunity that the program offered," she recalled. "There were monthly seminars with guest speakers from different career fields. … We did a lot of community service and were able to attend certain leadership conferences and got exposure to internship opportunities."
The close-knit environment put Ashley and her family at ease. "We were in a learning community where all the honors students had classes together and lived together," she said. "It was really good for somebody who was so far away from home to have a support group. We developed friendships and kept each other accountable. This helped us get through college, ultimately."
Ashley knows that her experience in the Honors Program made the difference in preparing her to find career and academic success. "I know people who came in to the program before me and after me, and the result is always the same—excellence."
###

ABOUT BOWIE STATE UNIVERSITY
Bowie State University (BSU) is an important higher education access portal for qualified persons from diverse academic and socioeconomic backgrounds, seeking a high-quality and affordable public comprehensive university. The university places special emphasis on the science, technology, teacher education, business, and nursing disciplines within the context of a liberal arts education. For more information about BSU, visit the website at www.bowiestate.edu.