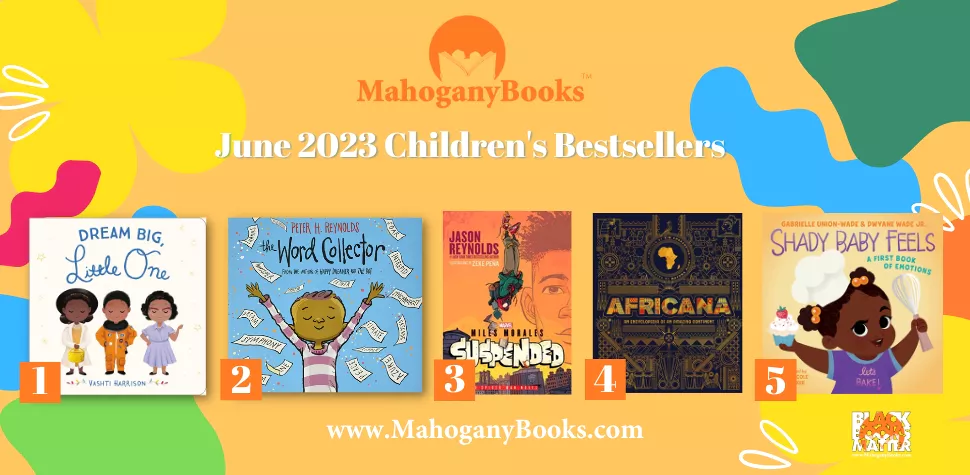 The MahoganyBooks Children's Bestsellers list is more than just a look at the Top Five books purchased over the past month from both of our stores and website. It's a list that takes into account the interests and concerns of African American readers/shoppers regardless of publisher, recency of publication, or book promotions geared at manufacturing sales.
Quite simply, our bestsellers list is a representation of the kinds of literary content that matters to them. #BlackBooksMatter
So without further ado, we present our…
June 2023 | MahoganyBooks Children's Bestsellers
---
This beautifully illustrated board book edition of instant bestseller Little Leaders: Bold Women in Black History showcases women who changed the world and is the perfect goodnight book to inspire big dreams.
Featuring 18 trailblazing black women in American history, Dream Big, Little One is the irresistible board book adaptation of Little Leaders: Bold Women in Black History.
Among these women, you'll find heroes, role models, and everyday women who did extraordinary things – bold women whose actions and beliefs contributed to making the world better for generations of girls and women to come. Whether they were putting pen to paper, soaring through the air or speaking up for the rights of others, the women profiled in these pages were all taking a stand against a world that didn't always accept them.
The leaders in this book may be little, but they all did something big and amazing, inspiring generations to come.
Target Age Group: 0-8 years old
---
From the beloved bestselling creator of The Dot and our own Happy Dreamer comes an inspiring story about the transformative and profound power of words. A New York Times Bestseller. Named an Outstanding Literary Work for Children by the NAACP.
Some people collect stamps. Some people collect coins. Some people collect art. And Jerome? Jerome collected words . . .
In this extraordinary new tale from Peter H. Reynolds, Jerome discovers the magic of the words all around him — short and sweet words, two-syllable treats, and multisyllable words that sound like little songs. Words that connect, transform, and empower.From the creator of The Dot, I Am Human, and Happy Dreamer comes a celebration of finding your own words — and the impact you can have when you share them with the world.
Peter H. Reynolds is a New York Times bestselling author and illustrator of many books for children, including The Dot, I Am Human, Happy Dreamer, The Word Collector, Say Something!, Be You!, and Our Table. His books have been translated into over 25 languages around the globe and are celebrated worldwide. In 1996, he founded FableVision with his brother, Paul, as a social change agency to help create "stories that matter, stories that move."
Target Age Group: 0-8 years old
---
From #1 New York Times bestselling author Jason Reynolds comes the high-flying sequel to his groundbreaking young adult novel Miles Morales: Spider-Man about the adventures of the unassuming, everyday kid who just so happens to be Spider-Man.
Miles Morales is still just your average teenager. He has unexpectedly become totally obsessed with poetry and can never seem to do much more than babble around his crush. Nothing too weird. Oh! Except, just yesterday, he used his spidey superpowers to save the world (no biggie) from an evil mastermind called The Warden. And the grand prize Miles gets for that is…
Suspension.
But what begins as a long boring day of in-school suspension is interrupted by a little bzzz in his mind. His spidey-sense is telling him there's something not quite right here, and soon he finds himself in a fierce battle with an insidious…termite?! His unexpected foe is hiding a secret, one that could lead to the destruction of the world's history–especially Black and Brown history–and only Miles can stop him. Yeah, just a typical day in the life of your friendly neighborhood Spider-Man.
Target Age Group: 12-19 years old
---
#4 – Africana by Kim Chakanetsa & Mayowa Alabi
Discover the incredible history and diversity of the African continent in all its splendour with this beautifully illustrated and fact-filled encyclopedia.
This fascinating and beautiful book is divided into broad geographical sections which celebrate and showcase the peoples, landscapes and wildlife from different regions of this great continent, and bright and bold illustrations bring these facts to life.
Learn about the astonishing history of the continent, as the birthplace of the very first human beings, through rich historical civilisations such as the ancient Egyptians, the Benin Empire and the Kingdom of Kush, up to the development of the dynamic cities of the modern day.
Africana explores:
The beautiful visual cultures and artwork from across Africa, including the the printed cottons of Guinea and the mud cloth of Mali
Famous figures from African history and modern-day change makers
The incredible landscapes and wildlife of the continent, ranging from the deserts of the north, the rainforests of the central regions and the savannahs of the south
Featuring a stunning copper foil-detailed cover, this large-format book is packed with maps, timelines and much, much more to open your eyes to the beauty and brilliance of this diverse continent.
Target Age Group: 8-12 years old
---
#5 – Shady Baby Feels by Gabrielle Union-Wade & Dwyane Wade Jr
Learn about feelings and emotions with Shady Baby in this board book created by the bestselling team of Gabrielle Union, Dwyane Wade, and Tara Nicole Whitaker!
Shady Baby is baking cupcakes, and she has some feelings about the process. From excitement or boredom, Shady Baby expresses nine common emotions. Perfect for the youngest of readers, this book will inspire kids to discuss their multitude of feelings in a kid-friendly, accessible format.
Great for:
introducing emotional literacy, self-awareness, and empathy to toddlers!
Reading sequential yet simple storylines!
Early childhood development!
Tiny hands, due to its sturdy pages!
Plus be sure to check out Shady Baby, the New York Times bestselling picture book from Gabrielle Union, Dwyane Wade, and Tara Nicole Whitaker.
Target Age Group: 0-8 years old
---