Click here to view original web page at washingtoninformer.com
After more than 40 years in public life, former mayor and Ward 8 Council member Marion S. Barry Jr., has finally written a book that tries to capture a full life that has taken him from the Mississippi Delta to Memphis to Washington, D.C.
To many black Washingtonians, Barry, 78, is Washington because in the 40 years since attaining Home Rule, his name has stood out as the one that's synonymous with the varied political fortunes of the District of Columbia
"Mr. Barry's story in many ways mirrors the paper's," said Washington Informer Publisher Denise Rolark Barnes, who is co-hosting a book signing with MahoganyBooks and a community conversation with Barry on Monday, June 23. "He is among the most prominent people in Washington. He is Washington."
"You have other people here who are identified with the city in other ways, but when you think of Marion Barry, you think of D.C. … it was good to have a leader like Marion Barry. He really understood the needs of the people and he wanted to make a change."
The book, "Mayor for Life: The Incredible Story of Marion Barry, Jr.," (Strebor Books), is co-authored by Omar Tyree, a New York Times bestselling writer and author of more than 20 books. Tyree, a Howard University graduate, Philadelphia native and North Caroline resident, won the 2001 NAACP Image Award for Outstanding Literary Work, Fiction, and the 2006 Phyllis Wheatley Literary Award for Body of Work in Urban Fiction.
The book details Barry's life from his early beginnings in the Mississippi cotton fields, his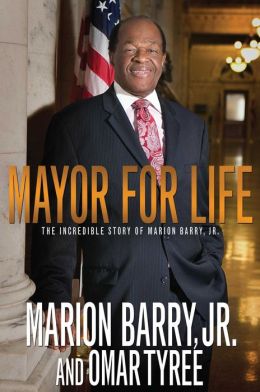 immersion into Civil Rights, his years as an activist, including serving as the first chairman of the Student Non-Violent Coordinating Committee, and eventually ascending to chief executive of the nation's capital.
During those years, he associated and worked with many stalwarts of the Civil Rights struggle like the Rev. Dr. Martin Luther King, Jr.; Congressman John Lewis of Georgia, D.C. Delegate Eleanor Holmes Norton, the Rev. James Bevel, Stokely Carmichael and his longtime friend Lawrence Guyot.
Barry came to Washington, D.C. in the 1960s and along with Informer founder Calvin Rolark and other activists fought against police brutality, while advocating for jobs and increased opportunities for blacks in the city, especially young people.
His public life – four-time mayor, former chair of the school board and currently a proud city council member – has come to symbolize the power, promise and enigma of Washington, D.C.
When he ascended to power as mayor in 1978, Barry represented a new breed of black politician: brash, unapologetic, savvy, a perspective and outlook sharpened by his experience as a civil rights activist and warrior for justice. His ascension into power came on the heels of the Black Power movement and seemed in many eyes to be the culmination of a decades-long effort by blacks to attain political, social and economic parity.
By the time he began serving his second term, Barry had brought significant numbers of blacks into city government, laid the groundwork for development of the black middle and upper class, mandated that 35 percent of all city building contracts go to minority contractors and presided over a multi-billion dollar apparatus that employed more than 30,000 employees.
A Conversation with Marion Barry, hosted by the Washington Informer in collaboration with MahoganyBooks, takes place at the Old Congress Heights School in Southeast Washington, D.C. from 6:30 – 9:30 p.m. Rolark Barnes will moderate an open discussion with the former mayor. Barry and Rolark Barnes will delve into his rise and fall and rise again to political power, his personal struggles and his varied challenges, including the night the FBI videotaped him smoking crack at the Vista Hotel that resulted in six months in federal prison, and ultimately his unexpected re-election to a fourth term as mayor.
Barry has always defied the odds and remains a lightning rod for controversy but he inspires a deep love and admiration from his beloved community, particularly those living east of the Anacostia River. Talk to any number of people in the city and Barry is still referred to as Mayor Barry or Mayor for Life.
"It is with great excitement and pride that I invite the public to join me as I discuss the incredible journey that has taken me from Mississippi to Memphis, and finally to D.C. where I became involved in community activism and politics," Barry said. "This book gives readers the true story of my life."
The discussion and signing, marks the official kick off of the Informer's 50th Anniversary celebration. It's open to the public and will give guests an opportunity to interact with Barry and receive a signed copy of the book. "Mayor for Life" can also be ordered at www.MahoganyBooks.com.
Barry will be on CNN's Anderson Cooper 360 to talk with the host about his book on Friday, June 20. He will also have a booth at the African-American Festival in Baltimore on Saturday, June 21 and then he'll be a guest of Oprah Winfrey's the following week via Skype.
Click here to view original web page at washingtoninformer.com