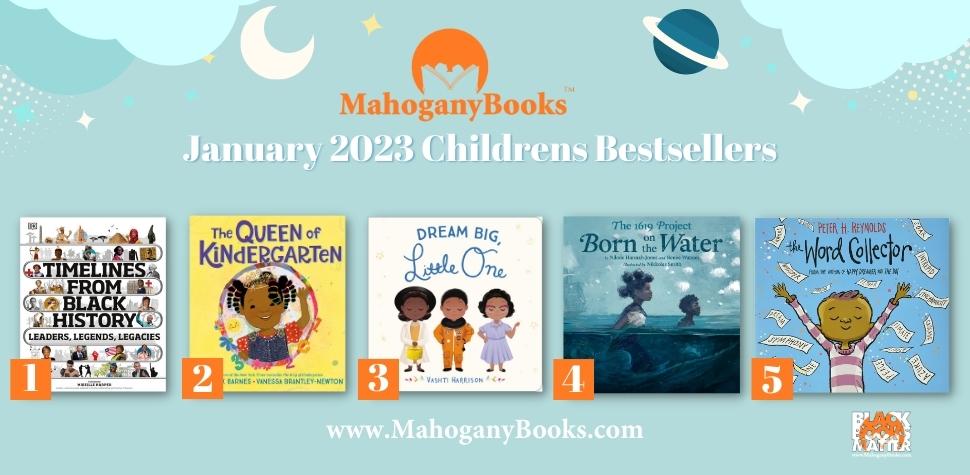 The MahoganyBooks Children's Bestsellers list is more than just a look at the Top Five books purchased over the past month from both of our stores and website. It's a list that takes into account the interests and concerns of African American readers/shoppers regardless of publisher, recency of publication, or book promotions geared at manufacturing sales.
Quite simply, our bestsellers list is a representation of the kinds of literary content that matters to them. #BlackBooksMatter
So without further ado, we present our…
January 2023 | MahoganyBooks Children's Bestsellers
---
Erased. Ignored. Hidden. Lost. Underappreciated. No longer. Delve into the unique, inspiring, and world-changing history of Black people.
This children's book, prefaced by Mireille Harper, introduces children to prominent Black people in history such as Frederick Douglass, Harriet Tubman, Nelson Mandela, Rosa Parks, and Dr. Martin Luther King. The timelines have been individually commissioned, with the stunning visual designs reflecting the essence of that particular historical person.
This visual reflection from DK Books will compel children to investigate further and understand world history and the important roles Black people played in shaping it:
– Features an equal number of timelines about women and men
– Explores the amazing stories of incredible figures often ignored by European-focused history
– Covers key moments in European, Caribbean, North American and African history, taking readers from pre-colonial Africa through the Jim Crow Era and the Civil Rights Movement to today's Black Lives Matter movement
– Created, designed, written, and edited by a multicultural team from many different nations, heritages, communities, faiths, and no faiths
From Mansa Musa to Barack Obama; learn about more than 100 Black leaders and historical individuals, and discover the 30 timelines from throughout world history in this compelling children's Black history book. Learn about Lewis Latimer and his integral contributions to the lightbulb, of how Ethiopia avoided colonization thanks to its brave queen, and many more important moments in world and Black history.
Pages of visual representations take children, adolescents, and adults on a trip through history. Stacked with facts and visually vibrant, Timelines From Black History: Leaders, Legacies, Legends is an unforgettable and accessible hive of information on the people and the issues that have shaped Black history.
Target Age Group: 9-13 years old
---
A confident little Black girl has a fantastic first day of school in this companion to the New York Times bestseller The King of Kindergarten.
MJ is more than ready for her first day of kindergarten! With her hair freshly braided and her mom's special tiara on her head, she knows she's going to rock kindergarten. But the tiara isn't just for show–it also reminds her of all the good things she brings to the classroom, stuff like her kindness, friendliness, and impressive soccer skills, too! Like The King of Kindergarten, this is the perfect book to reinforce excitement and build confidence in the newest students.

Derrick Barnes is the author of the empowering New York Times bestsellers The King of Kindergarten, I Am Every Good Thing, which won the NCTE Charlotte Huck Award and the Kirkus Prize, and Crown: An Ode to the Fresh Cut, which received a Newbery Honor, a Coretta Scott King Honor, the Kirkus Prize, and the Ezra Jack Keats Award. He also wrote the bestselling chapter book series Ruby and the Booker Boys. Derrick is a native of Kansas City, MO and a graduate of Jackson State University and was the first African American male creative copywriter hired by greeting card giant, Hallmark Cards. He lives in Charlotte, North Carolina, with his wife and their four sons.
Target Age Group: 3-6 years old
---
This beautifully illustrated board book edition of instant bestseller Little Leaders: Bold Women in Black History showcases women who changed the world and is the perfect goodnight book to inspire big dreams.
Featuring 18 trailblazing black women in American history, Dream Big, Little One is the irresistible board book adaptation of Little Leaders: Bold Women in Black History.
Among these women, you'll find heroes, role models, and everyday women who did extraordinary things – bold women whose actions and beliefs contributed to making the world better for generations of girls and women to come. Whether they were putting pen to paper, soaring through the air or speaking up for the rights of others, the women profiled in these pages were all taking a stand against a world that didn't always accept them.
The leaders in this book may be little, but they all did something big and amazing, inspiring generations to come.
Target Age Group: 0-8 years old
---
The 1619 Project's lyrical picture book in verse chronicles the consequences of slavery and the history of Black resistance in the United States, thoughtfully rendered by Pulitzer Prize-winning journalist Nikole Hannah-Jones and Newbery honor-winning author Renée Watson.
A young student receives a family tree assignment in school, but she can only trace back three generations. Grandma gathers the whole family, and the student learns that 400 years ago, in 1619, their ancestors were stolen and brought to America by white slave traders.
But before that, they had a home, a land, a language. She learns how the people said to be born on the water survived.

And the people planted dreams and hope,
willed themselves to keep
living, living.

And the people learned new words
for love
for friend
for family

for joy
for grow
for home.

With powerful verse and striking illustrations by Nikkolas Smith, Born on the Water provides a pathway for readers of all ages to reflect on the origins of American identity.
Target Age Group: 7-10 years old
---
From the beloved bestselling creator of The Dot and our own Happy Dreamer comes an inspiring story about the transformative and profound power of words. A New York Times Bestseller. Named an Outstanding Literary Work for Children by the NAACP.
Some people collect stamps. Some people collect coins. Some people collect art. And Jerome? Jerome collected words . . .
In this extraordinary new tale from Peter H. Reynolds, Jerome discovers the magic of the words all around him — short and sweet words, two-syllable treats, and multisyllable words that sound like little songs. Words that connect, transform, and empower.From the creator of The Dot, I Am Human, and Happy Dreamer comes a celebration of finding your own words — and the impact you can have when you share them with the world.
Peter H. Reynolds is a New York Times bestselling author and illustrator of many books for children, including The Dot, I Am Human, Happy Dreamer, The Word Collector, Say Something!, Be You!, and Our Table. His books have been translated into over 25 languages around the globe and are celebrated worldwide. In 1996, he founded FableVision with his brother, Paul, as a social change agency to help create "stories that matter, stories that move."
Target Age Group: 0-8 years old
---