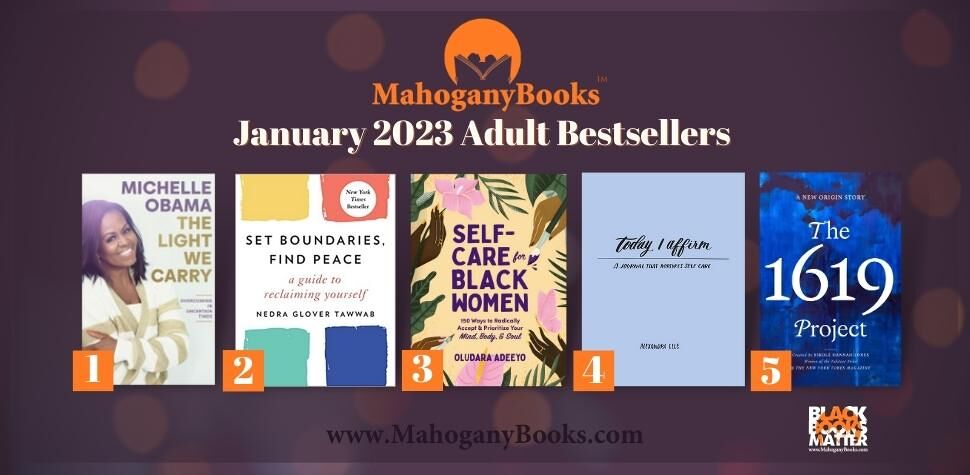 The MahoganyBooks Adult Bestsellers list is more than just a look at the Top Five books purchased over the past month from our store and website. It's a list that takes into account the interests and concerns of African American readers/shoppers regardless of publisher, recency of publication, or book promotions geared at manufacturing sales.
Quite simply, our bestsellers list is a representation of the kinds of literary content that matters to them. #BlackBooksMatter
So without further ado, we present our…
January 2023 | MahoganyBooks Adult Bestsellers
---
In an inspiring follow-up to her critically acclaimed, #1 bestselling memoir Becoming, former First Lady Michelle Obama shares practical wisdom and powerful strategies for staying hopeful and balanced in today's highly uncertain world.

There may be no tidy solutions or pithy answers to life's big challenges, but Michelle Obama believes that we can all locate and lean on a set of tools to help us better navigate change and remain steady within flux. In The Light We Carry, she opens a frank and honest dialogue with readers, considering the questions many of us wrestle with: How do we build enduring and honest relationships? How can we discover strength and community inside our differences? What tools do we use to address feelings of self-doubt or helplessness? What do we do when it all starts to feel like too much?

Michelle Obama offers readers a series of fresh stories and insightful reflections on change, challenge, and power, including her belief that when we light up for others, we can illuminate the richness and potential of the world around us, discovering deeper truths and new pathways for progress. Drawing from her experiences as a mother, daughter, spouse, friend, and First Lady, she shares the habits and principles she has developed to successfully adapt to change and overcome various obstacles—the earned wisdom that helps her continue to "become." She details her most valuable practices, like "starting kind," "going high," and assembling a "kitchen table" of trusted friends and mentors. With trademark humor, candor, and compassion, she also explores issues connected to race, gender, and visibility, encouraging readers to work through fear, find strength in community, and live with boldness.
---
End the struggle, speak up for what you need, and experience the freedom of being truly yourself.
Healthy boundaries. We all know we should have them–in order to achieve work/life balance, cope with toxic people, and enjoy rewarding relationships with partners, friends, and family. But what do healthy boundaries really mean–and how can we successfully express our needs, say no, and be assertive without offending others?
Licensed counselor, sought-after relationship expert, and one of the most influential therapists on Instagram Nedra Glover Tawwab demystifies this complex topic for today's world. In a relatable and inclusive tone, Set Boundaries, Find Peace presents simple-yet-powerful ways to establish healthy boundaries in all aspects of life. Rooted in the latest research and best practices used in cognitive behavioral therapy (CBT), these techniques help us identify and express our needs clearly and without apology–and unravel a root problem behind codependency, power struggles, anxiety, depression, burnout, and more.
Nedra Glover Tawwab is the author of the New York Times bestseller Set Boundaries, Find Peace. A licensed therapist and renowned relationship expert, she has practiced relationship therapy for twelve years and is the founder and owner of the group therapy practice Kaleidoscope Counseling. She has been recently featured in The New York Times, The Guardian, Psychology Today, Self, and Vice, and has appeared on numerous podcasts, including Don't Keep Your Day Job, Do the Thing, and Therapy for Black Girls. Tawwab runs a popular Instagram account where she shares practices, tools, and reflections for mental health and hosts weekly Q&As about boundaries and relationships.
Want more setting boundaries practice? Check out the Set Boundaries Workbook.
---
Prioritize your wellbeing with these 150 self-care exercises designed specifically to help Black women revitalize their outlook on life, improve their mental health, eliminate stress, and self-advocate.
Between micro- and macro-aggressions at school, at work, and everywhere in between, it's tough to prioritize physical and mental wellness as a Black woman, especially with a constant news cycle highlighting Black trauma. Now, with The Self-Care for Black Women you'll find more than 150 exercises that will help you radically choose to put yourself first. Whether you need a quick pick-me-up in the middle of the day, you're working through feelings of burnout, or you need to process a microaggression, this book has everything you need to feel more at peace.
You'll find prompts like:
-Map out your feelings about a microaggression
-Make a list of your safe spaces
-Detail out an entire day dedicated to your self-care
-And more!
It's time to put yourself first and prioritize your self-care once and for all–and this book is here to help you do just that.
---
From Alexandra Elle, celebrated poet and author of Neon Soul and Words from a Wanderer, comes Today I Affirm–a journal and guide to reading and writing daily affirmations.
Writing serves as a form of meditation. When we slow down and settle into ourselves, affirmations can assist us in self-awareness, introspection, and understanding. Today I Affirm helps walk readers through the ins and outs of cultivating positive self-talk in a way that is stress-free and easy to understand. This innovative book includes affirmations written by the author, short bits of inspiration, charts to fill in, as well as journal pages all with the focus on self-care.
Alexandra Elle is a writer and creative living in the Washington, DC metro area with her husband and two daughters. In her pre-teen years, writing came into her life by way of therapy and the exploration of healing. Many years later, Alex's voice and words are being shared poetically in the form of self-love and self-care. Her passion for storytelling, poetry, and narrative writing are infused with life lessons, self-celebration, and building community through reading, writing, and language.
---
A dramatic expansion of a groundbreaking work of journalism, The 1619 Project: A New Origin Story offers a profoundly revealing vision of the American past and present.

In late August 1619, a ship arrived in the British colony of Virginia bearing a cargo of twenty to thirty enslaved people from Africa. Their arrival led to the barbaric and unprecedented system of American chattel slavery that would last for the next 250 years. This is sometimes referred to as the country's original sin, but it is more than that: It is the source of so much that still defines the United States.
The New York Times Magazine's award-winning "1619 Project" issue reframed our understanding of American history by placing slavery and its continuing legacy at the center of our national narrative. This new book substantially expands on that work, weaving together eighteen essays that explore the legacy of slavery in present-day America with thirty-six poems and works of fiction that illuminate key moments of oppression, struggle, and resistance. The essays show how the inheritance of 1619 reaches into every part of contemporary American society, from politics, music, diet, traffic, and citizenship to capitalism, religion, and our democracy itself.
This is a book that speaks directly to our current moment, contextualizing the systems of race and caste within which we operate today. It reveals long-glossed-over truths around our nation's founding and construction–and the way that the legacy of slavery did not end with emancipation, but continues to shape contemporary American life.
---