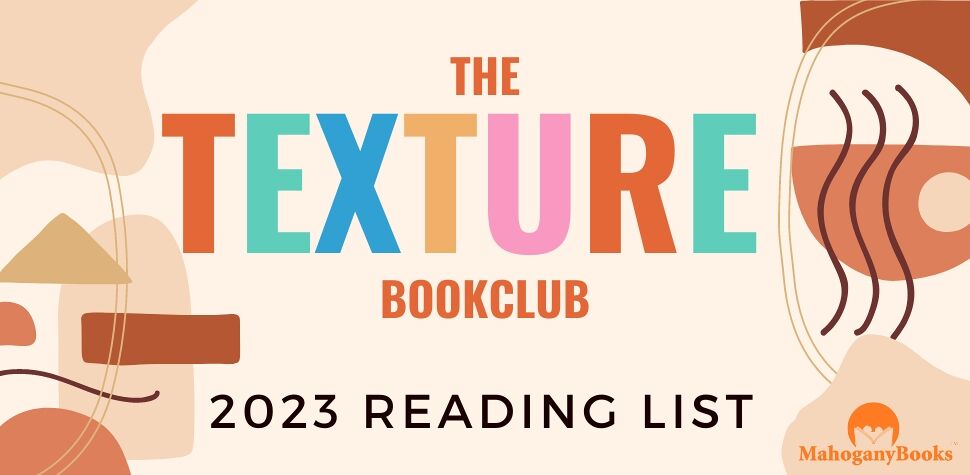 TEXTURE: a book club tapping into how books make us FEEL.
We can all recall a time when a book has given us a visceral, transformative, gut reaction of joy, wonder or understanding. We invite you, our lovely readers, to join us in discussion of those very books that beg the questions: How does this story make me feel? What are the books which have provided texture and complexity to our lives?
Meet us every SECOND SUNDAY at our National Harbor store (121 American Way, 20745).
2023 Reading List
---
June 2023
Specially picked by Staff Member: Bria
A New York Times bestselling author, National Book Award finalist, and "one of our greatest living writers" (Shondaland) reimagines the love story in this "riveting and emotional exploration of grief and taking a second chance on love" (PopSugar).
Feyi Adekola wants to learn how to be alive again.
It's been five years since the accident that killed the love of her life and she's almost a new person now–an artist with her own studio and sharing a brownstone apartment with her ride-or-die best friend, Joy, who insists it's time for Feyi to ease back into the dating scene. Feyi isn't ready for anything serious, but a steamy encounter at a rooftop party cascades into a whirlwind summer she could have never imagined: a luxury trip to a tropical island, decadent meals in the glamorous home of a celebrity chef, and a major curator who wants to launch her art career.
She's even started dating the perfect guy, but their new relationship might be sabotaged before it has a chance by the overwhelming desire Feyi feels every time she locks eyes with the one person who is most definitely off-limits–his father. Can she release her past and honor her grief while still embracing her future? And, of course, there's the biggest question of all–how far is she willing to go for a second chance at love?
Discussion Date: July 9, 2023
---
July 2023
Specially picked by Staff Member: Stephanie
PEN OPEN BOOK AWARD FINALIST | ONE OF THE BEST BOOKS OF THE YEAR: Slate – Publishers Weekly – Kirkus Reviews – Milwaukee Journal-Sentinel
Ma Taffy may be blind but she sees everything. So when her great-nephew Kaia comes home from school in tears, what she senses sends a deep fear running through her. A teacher has cut off Kaia's dreadlocks—a violation of the family's Rastafari beliefs—and this single impulsive action will have ramifications that stretch throughout the entire community. Kaia's story brings back memories from Ma Taffy's youth, including the legend of the flying preacherman and his ties to the history of Jamaican oppression and resistance—all of which will reverberate forward to the present and change Augustown forever.
Vividly bringing to life Jamaica in the 1980s, Augustown follows one family's struggle to rise above the brutal vicissitudes of history, race, class, collective memory, violence, and myth.
Discussion Date: August 13, 2023
---
August 2023
Specially picked by Staff Member: Britton
The Evidence of Things Not Seen, award-winning author James Baldwin's searing 1985 indictment of the nation's racial stagnation, is contextualized anew by an introduction from New York Times bestselling author and political leader Stacey Abrams.
In this essential work, James Baldwin examines the Atlanta child murders that took place over twenty-two months in 1979 and 1980. Examining this incident with a reporter's skill and an essayist's insight, he notes the significance of Atlanta as the site of these brutal killings–a city that claimed to be "too busy to hate"–and the permeation of race throughout the case: the Black administration in Atlanta; the murdered Black children; and Wayne Williams, the Black man tried for the crimes. In Baldwin's hands, this specific set of events has transcended its era and remains as relevant today as ever.
Rummaging through the ruins of American race relations, Baldwin addresses all the hard-to-face issues that have brought us to a moment in history when we are forced to reckon with some of the country's most ingrained, foundational issues and when, too often, public officials fail to ask real questions about "justice for all." In this, his last book, Baldwin also reveals his optimistic faith in America's ability to move toward repair: "This is the only nation in the world that can hope to liberate–to begin to liberate–mankind from the strangling idea of the national identity and the tyranny of the territorial dispute. I know this sounds remote, now, and that I will not live to see anything resembling this hope come to pass. Yet, I know that I have seen it–in fire and blood and anguish, true, but I have seen it. I speak with the authority of the issue of the slave born in the country once believed to be: the last best hope of earth."
Discussion Date: September 10, 2023
---
September 2023
Specially picked by Staff Member: Bria
#1 NEW YORK TIMES BESTSELLER
From The New York Times-bestselling author of The Mothers, a stunning new novel about twin sisters, inseparable as children, who ultimately choose to live in two very different worlds, one black and one white.
The Vignes twin sisters will always be identical. But after growing up together in a small, southern black community and running away at age sixteen, it's not just the shape of their daily lives that is different as adults, it's everything: their families, their communities, their racial identities. Many years later, one sister lives with her black daughter in the same southern town she once tried to escape. The other secretly passes for white, and her white husband knows nothing of her past. Still, even separated by so many miles and just as many lies, the fates of the twins remain intertwined. What will happen to the next generation, when their own daughters' storylines intersect?
Weaving together multiple strands and generations of this family, from the Deep South to California, from the 1950s to the 1990s, Brit Bennett produces a story that is at once a riveting, emotional family story and a brilliant exploration of the American history of passing. Looking well beyond issues of race, The Vanishing Half considers the lasting influence of the past as it shapes a person's decisions, desires, and expectations, and explores some of the multiple reasons and realms in which people sometimes feel pulled to live as something other than their origins.
As with her New York Times-bestselling debut The Mothers, Brit Bennett offers an engrossing page-turner about family and relationships that is immersive and provocative, compassionate and wise.
Discussion Date: October 8, 2023
---
October 2023
Specially picked by Staff Member: Stephanie
A short, darkly funny, hand grenade of a novel about a Nigerian woman whose younger sister has a very inconvenient habit of killing her boyfriends
"Femi makes three, you know. Three and they label you a serial killer."
Korede is bitter. How could she not be? Her sister, Ayoola, is many things: the favorite child, the beautiful one, possibly sociopathic. And now Ayoola's third boyfriend in a row is dead.
Korede's practicality is the sisters' saving grace. She knows the best solutions for cleaning blood, the trunk of her car is big enough for a body, and she keeps Ayoola from posting pictures of her dinner to Instagram when she should be mourning her "missing" boyfriend. Not that she gets any credit.
Korede has long been in love with a kind, handsome doctor at the hospital where she works. She dreams of the day when he will realize that she's exactly what he needs. But when he asks Korede for Ayoola's phone number, she must reckon with what her sister has become and how far she's willing to go to protect her.
Sharp as nails and full of deadpan wit, Oyinkan Braithwaite's deliciously deadly debut is as fun as it is frightening.
Discussion Date: November 12, 2023
---
November 2023
Boys Come First by Aaron Foley
Specially picked by Staff Member: Britton
This hilarious, touching debut novel by Aaron Foley, author of How to Live in Detroit Without Being a Jackass, follows three Black gay millennial men looking for love, friendship, and professional success in the Motor City.
Suddenly jobless and single after a devastating layoff and a breakup with his cheating ex, advertising copywriter Dominick Gibson flees his life in Hell's Kitchen to try and get back on track in his hometown of Detroit. He's got one objective — exit the shallow dating pool ASAP and get married by thirty-five — and the deadline's approaching fast.
Meanwhile, Dom's best friend, Troy Clements, an idealistic teacher who never left Michigan, finds himself at odds with all the men in his life: a troubled boyfriend he's desperate to hold onto, a perpetually dissatisfied father, and his other friend, Remy Patton. Remy, a rags-to-riches real estate agent known as "Mr. Detroit," has his own problems — namely choosing between making it work with a long-distance lover or settling for a local Mr. Right Now who's not quite Mr. Right. And when a high-stakes real estate deal threatens to blow up his friendship with Troy, the three men have to figure out how to navigate the pitfalls of friendship and a city that seems to be changing overnight.
Full of unforgettable characters, Boys Come First is about the trials and tribulations of real friendship, but also about the highlights and hiccups –late nights at the wine bar, awkward Grindr hookups, workplace microaggressions, situationships, frenemies, family drama, and of course, the group chat — that define Black, gay, millennial life in today's Detroit.
Discussion Date: December 10, 2023
---
December 2023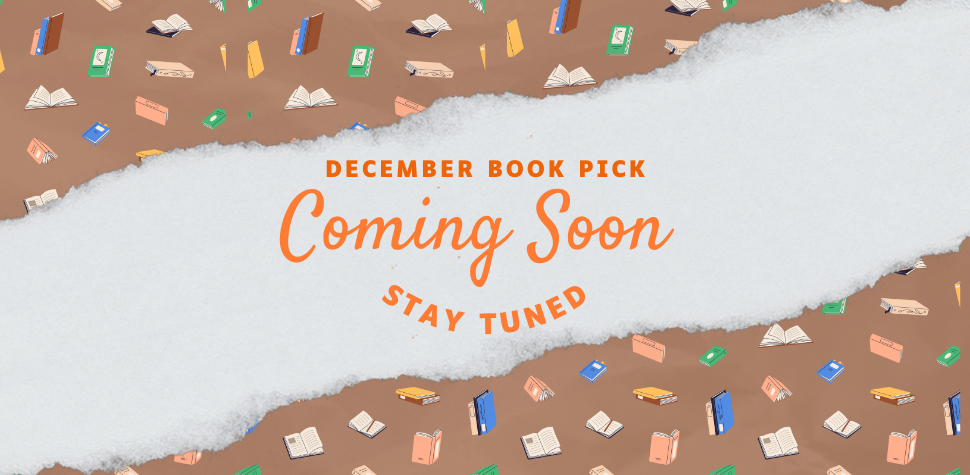 Discussion Date: January 14, 2024
---